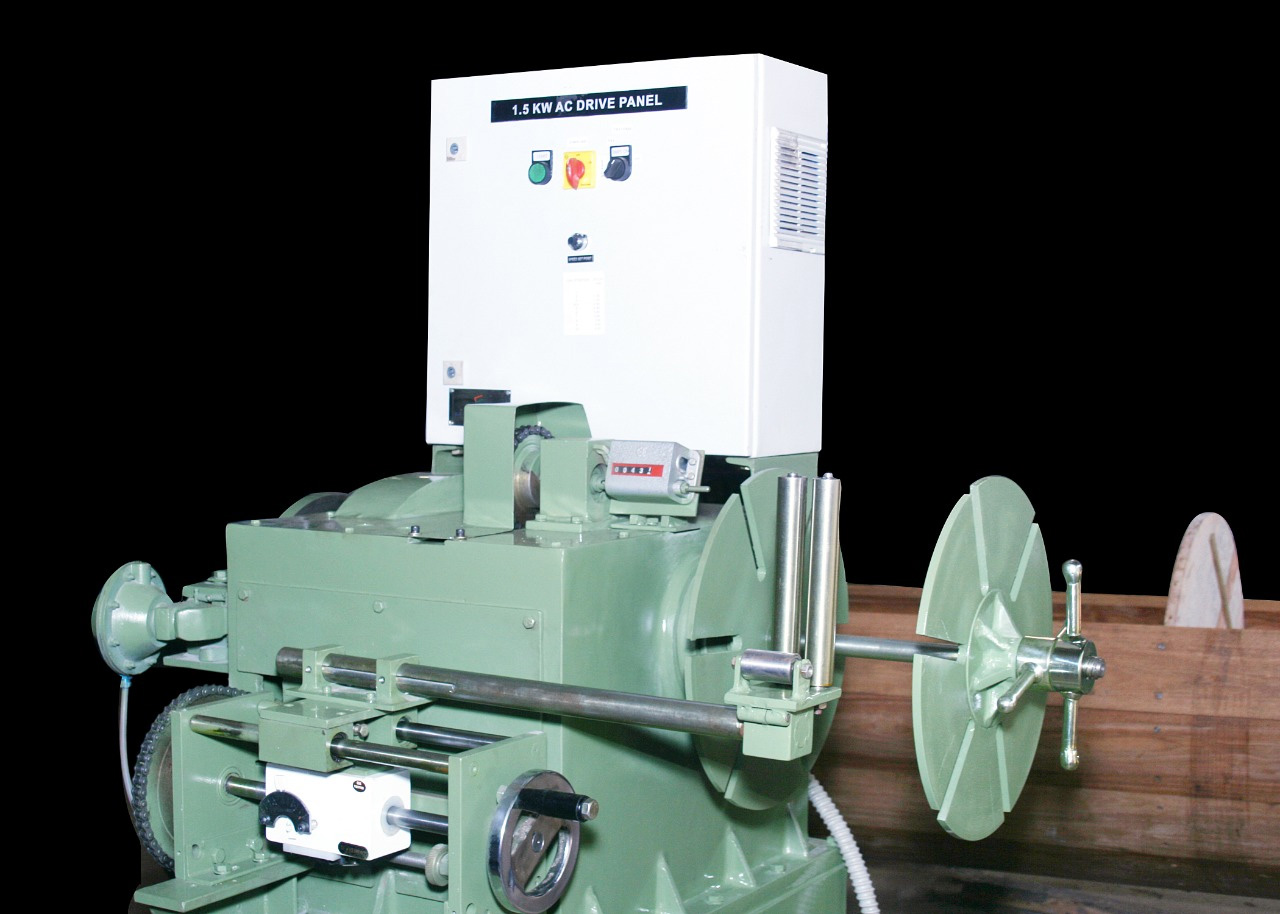 Cross Over (HV) Coil Winding Machine
Application : Tension controlled Layer winding of HV coils.
Conductor Size : 0.6mm to 3.5mm
Maximum Coil diameter : 330mm
Maximum Coil width : 175mm
Maximum Coil weight : 15Kg
Coil holding : Shaft type. 2 number slotted flanges are supplied. Locking by nut with handle.
Brake : Disc brake. Dynamic braking with DBR also provided. Brake will be always holding. The Winder and unwinder stop in synchronization.
Foot Switch : Machine operated with a Foot Switch. Selector switch provided for Reverse running.
Gear Box : Sturdy gear box with Coil shaft and traverse assembly suitably mounted with oil splash lubrication.
Unloading of finished Coil : Coil removed easily with crane after opening tail stock.
Maximum Shaft Speed : 300 RPM(Variable speed)
Speed Control : Variable speed with Potentiometer
Drive : By a2 HPAC Motor. AC variable frequency drive for speed control.
Turns counter : Mechanical or an Electronic counter
Control panel : Control panel with AC variable frequency drive and accessories will be supplied.
Unwinder with tensioning stand
Application : The Tensioning stand is provided for loading the bobbin with conductor and controlling the unwinding speed with reverence to winder speed.
Wire size : 0.6mm to 3.5mm
Bobbin Loading : Shaft type with tapered pintle and drive plate. Locking by nut with handle.
Bobbin Size : As per requirement
Wire Tensioning : Spring loaded Swivelling arm with guide pulleys to control tension and unwinding speed.
Back To Machines for Transformer Coil